Milford will always be an affluent, market attractive area, accentuated by its ecological wonders; Wairau estuary, Lake Pupuke and the stunning beach.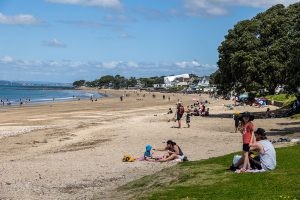 Its golden sand beach lined with yachts and sailboats, rather nondescript township of fabric stores and mainstream retailers, along with a dependable mix of housing stock, has been known to attract the retiring age bracket. And like many fellow coastal suburbs north of the bridge – it balances a subdued coastal charm with a growing population. But Milford isn't just growing, it's changing – turning from a place of ageing conservatism – reminiscent of 1990's Kiwi suburbia – to a place that harks back even further, when the north shore was a hub of entertainment.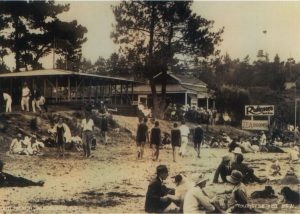 Early Milford beach. Auckland Libraries Heritage Collections.
The History
To speak of Milford's history is to speak of the heart-shaped volcanic wonder at its feet, Lake Pupuke. Claimed to be over 150,000 years old-among the oldest in Auckland-Lake Pupuke is threaded into Māori mythology.
After a tupua (demon) couple were quarrelling and cursing Mahuika, the goddess of fire, it was punished by Matahoe, God of earthquakes and eruptions, who demolished their home on the mainland, creating Lake Pupuke. It is said, Rangitoto Island, its closest volcanic neighbour, rose from the sea as their exile. Now when mist gathers at the tip of Rangitoto, the mist represents the tears of the tupua.
Lake Pupuke is the only volcanic crater lake, or maar, in Auckland. Prior to European settlement, the rich volcanic soil provided for Māori; a place to hāngī, prepare food and utilise in daily life.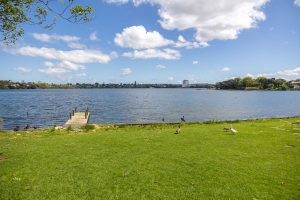 The birth of the Pumphouse
In 1894, a pump house was developed on the fringe of the lake and supplied fresh water to Devonport and Takapuna before being replaced by a second pump house in 1905. As the Waitakere Ranges became the dominant source of Auckland's water, the old pump house faded into obscurity. At risk of demolition, local historians and artists gathered to rescue the building, shouldering restoration projects and transforming the historic building into a lively theatre – The Pumphouse Theatre, which still hosts events today.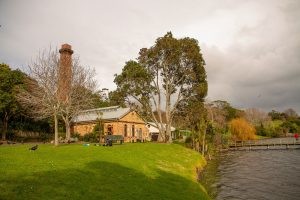 Although the pumphouse stands on the other side of Lake Pupuke – it wasn't the first theatre in the area. It followed a thick thespian thread woven into Milford's culture.
One article suggests, in the 1920's, 'Milford was a leisure and entertainment magnet'.
Historic buildings such as the Bridgeway Theatre, as well as the Milford Picturedrome – fortified by local surveyor and property developer, Laurie Speedy-presented diverse film showcasing's, parties, and facilitated entertainment for both locals and out of towners.
Milford today
Milford is a pocket of affluence. Today, it's less about bawdy dance parties and more about reading on the calm beach, yachting and sailing, or walking across rock pools and gazing out on the open breasted Hauraki Gulf.
Residents are gifted with the essential amenities on their doorstep with connection to high decile schools, the Northshore Hospital, public parks, as well as sports and recreational facilities.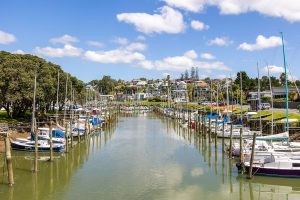 Dining options are starting to pop up
But the truth is, it's growing beyond sleepy suburban gardens and heritage sites. New restaurants, who can't be bothered competing against the noisy exorbitant culture of downtown Auckland, are popping up.
One example – described as possibly NZ's best wine bar – is Cave à Vin, which transcends local borders and steps into pointy Parisian shoes, offering delicious cheeses, natural wine and mind blowing sourdough.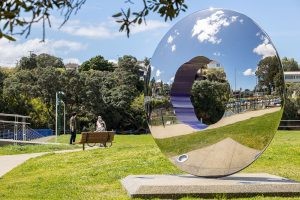 Apartment dwelling development scheme
Further, a new development scheme by the government could help solve the blight of housing sprawl in Milford. The law invites developers to build apartment dwellings up to 6 stories high, with a focus on design integrity. It aims to mitigate runaway housing prices as well as accommodate for a growing population.
It joins a slew of other proposals for Milford, including a much-improved vibrant city centre, restoration projects and ensuring better connection to the beach. It hopes to stitch a heart into the suburb, invite young people and businesses, while continuing to express strong local identity and build on its natural and cultural heritage.
Milford will always be an affluent, market attractive area, accentuated by its ecological wonders: Wairau estuary, Lake Pupuke and the beach. But maybe tomorrow's Milford might be less polite, and more connected to its exciting heritage, as an 'entertainment magnet' in Auckland.