Its opulent coastal view, featuring a brooding volcanic island, ensures it is among the most attractive urban beaches in the world.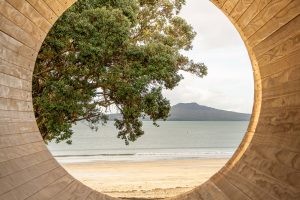 It is one of Auckland's most affluent suburbs, showcasing a collection of tall buildings, modest suburban dwellings, and classy seaside homes, including the city's home of the year 2021 (and some of the most prized in Auckland). But the increasing arrival of authentic restaurants and cafes, maturing urban plans and economic vitality, ensures the suburb can grow beyond its reverential coastal charm.
History
Takapuna balances the preservation of its heritage with the embrace of growth. Since the early 1900's, it has been noted as 'a favourite summer resort' – adorned in many old photographs and artworks, including this gem of tents and caravans crammed, shoulder to shoulder, at the Takapuna Beach Holiday Park. Although these vintage forts have been somewhat modernised – the beach is still among the most popular and accommodating in Auckland.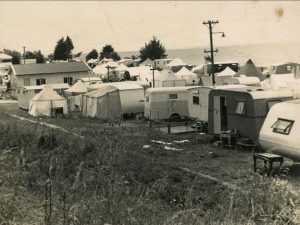 Takapuna Beach Motor Camp, 1930-1939. Auckland Libraries Heritage Collections T7038
The beach itself holds strong cultural and spiritual significance, notably the sacred grove of Pohutukawa which stands at the north end, hanging over the water's edge. These sacred trees performed a funerary role for Māori, as enwrapped bodies were placed across the branches of Pohutukawa, ensuring natural processes of decay before the burial of bones.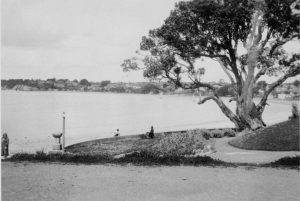 Photograph taken by Takapuna local, Rita Sim. Auckland Libraries Heritage Collections G0479
Its crimson bloom was later used as wayfinding by early seafarers, who paid tribute by placing a sprig of mānuka or fern at the foot of the tree. And despite these groves being the subject of much public snivelling, pruning and local buffoonery, these sacred trees still stand, continuing to embattle the headwinds of today.
The many dinning options in Takapuna
Takapuna is more than sleepy seaside romanticism; however, it stands as its own metropolis. The arrival of new cafes, bars and businesses has enlivened urban energy, shifting from a place of conservative coastal eateries, to one that offers authenticity and diversity.
Takapuna Beach Cafe, previously owned by Hip Group – the local hospitality institution whose portfolio includes Ortolana, Rosie, and Amano – and now taken over by one of its own, James Bryant, remains the cornerstone of Takapuna's hospitality scene.
This perfectly situated cafe casts an eye on the porous harbour with a magnificent view of Rangitoto Island. Whether it is the fizz and bustle of regulars trotting in for morning coffee, or the curious interloper wanting a taste of coastal provenance – any time, any day of the week, the place is alive with people. Its food is seasonal and informed by the geography, offering delicious locally sourced oysters and the ever-succulent line-caught fish of the day.
Further, its popularity has meant new owner, James Bryant, has endeavoured to branch out, setting up a new cafe situated in the Department Store in Northcroft Street. Named Piccolo Coffee, it serves coffee and food with a focus on quality, adding another jewel in Takapuna's hospitality cabinet.
However, Takapuna's hospitality scene is not limited to plucky cafes – its restaurant scene is increasingly diverse. Hidden away down the Lake Road strip of shops, a slightly quieter – but equally decent – place to eat is Basu Lounge. Locally revered, this dim-lit Chinese Dumpling restaurant is perfect for eating alone, or in a small group of two or three, offering tantalising beef noodle soup, with dumplings rated amongst the best in Auckland.
A maturing urban area
Takapuna township is maturing from an angsty teen into a well-rounded adult. It has always leaned on its inexhaustible environmental beauty – the golden sand and the warm water, and the numerous coastal walks with Rangitoto Island on your side – but the township is becoming a destination in its own right.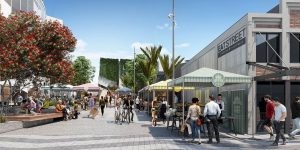 Led by the Auckland Council's development arm, Panuku, new regenerative plans are in place. It promises a new town square with better connection between town and sea, ensuring ease of movement, as well as increasingly open public spaces for events and artisan markets. The town is set to be a vibrant place for locals and visitors alike. A place to eat, drink and freely explore this rare urban wonder.